Saturday, November 12, 2022 • 7:30 p.m.
First Free Methodist Church (3200 3rd Ave W)
Harmonia Orchestra & Chorus
William White, conductor
Allison Pohl, soprano
Sarah Mattox, mezzo-soprano
Carson Lott, tenor
Justin Birchell, baritone
---
Program
Franz Schubert (1797 –1828)
Symphony in B minor, D. 759 ("Unfinished")
— intermission —
Wolfgang Amadè Mozart (1756 –1791)
Requiem in D minor, K. 626
---
About the Concert
The story of Mozart's Requiem is well known: the composer, desperate for funds, was compelled to accept the commission from a mysterious Austrian nobleman who hoped to pass the piece off as his own. Alas, Mozart would not live to complete the work himself, a task that fell to his student Franz Xaver Süßmayr. (Ironically, Mozart's widow hoped to pass off the completed Requiem as authentic Mozart.)
Many completions of Mozart's Requiem now vie for supremacy, but Süßmayr's has the advantage of having been made in collaboration with the dying Mozart himself. However, it was another composer who took upon the spiritual mantle of Mozart's music, and that composer was Franz Schubert, who, tragically, would also leave a great work incomplete, the now-beloved Symphony in B minor.
---
About the Soloists
Soprano Allison Pohl made her professional debut as Barbarina in Le Nozze di Figaro at Boston Lyric Opera. Her work has drawn positive reviews for her "sparkling voice" (outerstage.com) and "exuberant" performances (Opera News). Of her performance in L'elisir d'amore at Virginia Opera, The Washington Post wrote: "Allison Pohl stood out with a ripe, flavorful soprano and ample character." She made her Seattle Symphony debut as soloist in Handel's Messiah in 2018. Upcoming engagements include Harmonia (Bach's Magnificat), Vashon Opera (Susanna in Le Nozze di Figaro, Echo in Ariadne auf Naxos), SkyOpera (Musetta in La Bohème) and Bremerton Symphony (Dvořák's Te Deum). She has previously appeared with Tacoma Opera, Opera Providence, Canton Symphony, Opera in the Heights, New Rochelle Opera, Richmond County Orchestra, Shrewsbury Chorale, Camerata Philadelphia, Garden State Philharmonic, Bronx Opera, North Shore Music Festival, One World Symphony, Big Apple Baroque and New York City Opera's education program. A 2016 Seattle Opera Career Grant recipient, she performed in the chamber ensemble of their world-premiere O+E, a modern adaptation of Gluck's Orfeo ed Euridice. Ms. Pohl holds degrees from Boston University and SUNY Purchase Conservatory of Music, and performs as part of Soprello, a chamber duo with cellist Alistair MacRae
Learn more: allisonpohl.com
---
Mezzo-soprano Sarah Mattox has sung principal roles with Seattle Opera, Cincinnati Opera, Palm Beach Opera, Chicago Opera Theatre, Lyric Opera Cleveland, Amarillo Opera, Eugene Opera, Tacoma Opera and many others. Favorite roles include the title characters in Carmen and Cendrillon, Dorabella in Così fan Tutte, Ottavia in L'Incoronazione di Poppea and the Witch in Hansel and Gretel. She received special acclaim from The Seattle Times for her debut as Feodor in Seattle Opera's Boris Godunov: "newcomer Sarah Elouise Mattox &0133; raised eyebrows all over the Opera House with her believable, lifelike acting and her well-schooled voice." In Cleveland, the Beacon Journal called her "a rich-toned mezzo-soprano who came to life as Dorabella." On the concert stage, Ms. Mattox has made several appearances at Benaroya Hall with the Seattle Symphony and soloed with Northwest Sinfonietta, Seattle Baroque Orchestra, Portland Baroque Orchestra and Pacific Northwest Ballet. This season she returns to Seattle Opera for A Very Drunken Christmas Carol and the world premiere of Sheila Silver's A Thousand Splendid Suns, to the Helena Symphony for Mozart's Requiem, and to Benaroya Hall to sing Beethoven's Ninth with Harmonia. As a composer, Ms. Mattox was won awards for her chamber opera Heart Mountain and her song cycle Rumpelstiltskin and the Falcon King.
Learn more: sarahmattox.com
---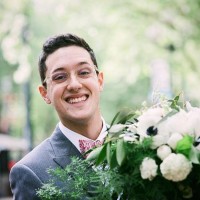 Originally from Seattle, tenor Carson Lott has performed with Harmonia, the Byrd Ensemble, Inland Northwest Opera, the Oregon Bach Festival Berwick Chorus, the Musicking Conference, Pacific Artists Collective, a touring group of Boston Camerata members, Cabaletta Productions and Orpheus PDX. As a concert soloist, his repertoire includes Dichterliebe (Schumann), Winter Words (Britten), Let Us Garlands Bring (Finzi), Le Jaloux (Clérambault), Mozart's Requiem, Handel's Messiah, Collegium Regale (Howells) and several Bach cantatas. Stage roles include the Rooster in Renard (Stravinsky), Paolino in Il matrimonio segreto (Cimarosa), Monaca Seconda and Voce in La beata Imelde (Perti), King Belshazzar in The Play of Daniel, Pastore I in L'Orfeo (Monteverdi), and Ferdinand in Carmen and the Bull (LaBarge). He recently premiered the role of Arthur Owen in Free Men, a new operetta by Ashley Hastings. Mr. Lott holds music degrees from Seattle University and the University of Oregon, and can be heard singing regularly with the choirs of Epiphany Parish Seattle, where he works as a staff soloist.
Learn more: carsonlott.com
---
Baritone Justin Birchell, currently a DMA candidate in Choral Conducting at the University of Washington, holds a BA in Music Performance and an MM in Voice Performance from UCLA's Herb Alpert School of Music. His stage credits include Silvio in Pagliacci, Sacristan in Tosca and numerous world-premiere roles, while recent and upcoming concert repertoire includes Bernstein's Songfest (Opera UCLA), Ravel's Don Quichotte à Dulcinée (UCLA Philharmonia) and Finzi's In Terra Pax (UW Choirs). A past winner of the Ted Stevens Young Alaskan Artist Award and the UCLA Philharmonia All-Stars concerto competition, he was selected as an "Emerging Artist" for the recital series at Boston Court Pasadena and as an "Operatic Rising Star" by the Camellia Symphony in Sacramento. Active in the Seattle area as a soloist, choral singer and conductor, he serves as music director at Wallingford United Methodist Church, assistant conductor of the UW Chorale, and a performing member of Choral Arts Northwest.
Learn more: justinbirchell.com
---
Maestro's Prelude
Dear Listeners,
Tonight, you will hear the music of two preternaturally gifted composers whose flames burned brightly and extinguished all too soon. Mozart and Schubert were both at the height of their powers when they succumbed to disease. They both lived and worked in Vienna and died within 40 years of each other. In another world, Mozart might have come to know Schubert's music as Schubert knew Mozart's.
In spite of their limited lifespans, these two geniuses produced astonishing amounts of music. It seemed to flow from them like water from a spring. It's no surprise then that these composers, cut off in the prime of their productive lives, left works at their death that remained incomplete.
Schubert's B-minor symphony and Mozart's D-minor Requiem offer contrasting examples in how a work can be left unfinished. In Schubert's case, the situation is rather tidy: we have two perfectly formed movements polished to a fine luster. What makes the "Unfinished" symphony unfinished is that it needs two more movements to round out the Classical form. For whatever reason, trying to decide what sort of music should continue the symphony flummoxed Schubert, so he set it aside to compose his "Great" C-major symphony, his most ambitious work in the genre (which he completed in full prior to his death in 1828).
Given enough time, Schubert may have come back to the "Unfinished" and devised a satisfying musical solution to the third and fourth movements. But as it stands, what we have is a perfect half of an incomplete symphony.
The situation with Mozart's Requiem, on the other hand, is messy. Mozart was racing against the clock to complete it — or at least create enough material so that one of his students could fully realize the work after his death.
Mozart died having written the vocal parts (and some of the instrumental parts) for all of the movements up to the Confutatis, as well as the first eight bars of the Lacrymosa. He left additional scraps of ideas lying around for the next movement, but it fell to Franz Xaver Süßmayr, Mozart's 25-year-old composition student, to write the Sanctus, Benedictus and Agnus Dei movements entirely on his own. (For the final movement, he had the good sense to reuse some of Mozart's material from the opening pages.)
So the work you will hear tonight, the one we all know as "Mozart's Requiem," is truly a hybrid work, a collaborative composition created by two composers (actually three — another of Mozart's students did a bit of work on it as well). A work created in dialogue, you might say.
Schubert may have intended to write more, but the movements he completed are as finely crafted as anything he wrote. Mozart only sketched his Requiem, but the Süßmayr completion is a beloved masterwork that now has a 230-year performing tradition behind it. In this light, should we really call these works "unfinished"? You be the judge!
— William White
---
Program Notes
Franz Schubert
Symphony in B minor, D. 759
Schubert was born January 31, 1797, near Vienna, where he died on November 19, 1828. He completed the first two movements of this work on October 30, 1822. Johann von Herbeck conducted the premiere on December 17, 1865, at Vienna's Gesellschaft der Musikfreunde. The score requires pairs of woodwinds, horns and trumpets, 3 trombones, timpani and strings.
Franz Schubert composed his first symphony at age 16, with another four following by the end of his 19th year, then a sixth completed shortly after he turned 21. Although each likely received private readings by amateur musicians, none were heard in public during Schubert's lifetime. In August 1821, he sketched an E-major symphony, but only orchestrated a portion of the first movement. (During this period he started and abandoned at least one other symphony.)
In October 1822 (we know this, because one of Schubert's teachers, Antonio Salieri, had impressed upon him the importance of dating scores) Schubert began work on a symphony in B minor. He composed and orchestrated the first two movements, finishing them by the end of the month, then sketched a scherzo (orchestrating the first two pages) and the beginnings of a trio. At this point — 200 years ago this month — he moved on to other projects (including his "Wanderer" Fantasy in C major, D. 760, for piano).
No one knows for sure why Schubert abandoned his B-minor symphony. It was not the first (and would not be the last) time he had set aside one piece of music to work on another, and certainly he had no prospects for a public performance of one of his orchestral works, although he was becoming known in Viennese circles for his lieder (German art songs) and chamber music. Around this time he would begin to experience symptoms of syphilis (which some theorize was the eventual cause of his death), but he would live another six productive years, during which he composed some of his greatest masterworks.
Michael Steinberg argues that the "most convincing explanation is that he was at a loss how to go on." The movements Schubert did complete "were altogether new in melodic style" and "like no other ever heard before." While the incomplete scherzo is pleasant enough, it does not rise to the "immensely high" standards Schubert had achieved in the first two movements.
A few months later, in April 1823, the Styrian Musical Society in Graz announced that they had bestowed an award on Schubert. This had been facilitated by one Anselm Hüttenbrenner, a Graz native who had been a classmate of Schubert's in Salieri's studio, and a member of Schubert's Viennese circle until he returned home to Graz in 1821. As a gesture of gratitude upon receiving the award, Schubert gave Hüttenbrenner the score to his incomplete symphony. (Hüttenbrenner's Requiem would be performed at Schubert's memorial service in early 1829.)
By the summer of 1825 Schubert had evidently solved the problem of how to complete a grand work in his newly devised symphonic style, composing a (complete) C-major symphony over the next several months. This received a private reading in 1827, but a complete public performance had to wait until a decade after the composer's death.
Over the years Hüttenbrenner had tried to facilitate a performance of the unfinished B-minor symphony, but eventually gave up. In 1860, conductor Johann von Herbeck got wind of its existence and, after a delay of some five years, feigned interest in Hüttenbrenner's own music to gain access to the Schubert work, which he brought back to Vienna and premiered later that year, tacking on the (incongruous) finale from Schubert's Symphony No. 3 in D major.
"When, after a few introductory bars, clarinet and oboe sound una voce a sweet melody on top of the quiet murmuring of the strings," critic Eduard Hanslick wrote of the first performance, "any child knows the composer and a half-suppressed exclamation 'Schubert' runs hummingly through the hall. He has hardly entered, but it is as if you knew his steps, his very way of opening the door. ... The sonorous beauty of both movements is enchanting." Indeed, audiences have remained enchanted ever since.
— Jeff Eldridge
Wolfgang Amadè Mozart
Requiem in D minor, K. 626
Joannes Chrisostomus Wolfgang Gottlieb Mozart was born in Salzburg on January 27, 1756, and died on December 5, 1791, in Vienna. He began composing this work in late July or early August 1791 and continued working on it until mere days before his death. The first performance of the "Requiem aeternum" and "Kyrie" occurred at a funeral mass for Mozart on December 10, 1791. The premiere of the entire work — in a version completed by Franz Xaver Süssmayr — likely took place in Vienna on January 2, 1793. In addition to chorus and SATB vocal soloists, the work requires pairs of basset horns, bassoons and trumpets, 3 trombones, timpani, organ and strings.
Late in November 1791, Mozart became seriously ill and was bedridden for the last two weeks of his life. Death finally snatched him shortly after midnight on December 5, less than two months before his 36th birthday. The official cause of his death was listed as "acute miliary fever" ("hitziges Friesel Fieber" or "prickly heat," characterized by a fever and a millet-like rash), but the physicians who attended him never were quite certain. The circumstances surrounding his untimely death soon gave rise to a number of myths and legends involving poisoning. Did composer Antonio Salieri or a jealous husband of one of Mozart's piano pupils commit murder? Scholars now generally agree that Mozart's death was not the result of foul play, but we may never know exactly how and why he met his early end. His body was interred in a commoner's grave at the St. Marx cemetery outside Vienna, as was customary at the time. Salieri, Franz Xaver Süssmayr (one of Mozart's students), Baron Gottfried van Swieten (a patron and friend), and two other musicians were present at his burial.
A few months before his death, Mozart wrote to Lorenzo da Ponte, librettist of his most popular Italian op- eras: "I am at the point of death. I have come to the end without having had the enjoyment of my talent. Life was indeed so beautiful, my career began under such fortunate auspices; but one cannot change one's own destiny. No one can measure his own days, one must resign oneself, it will be as Providence wills. And so I finish my death-song; I must not leave it incomplete."
Mozart did, in fact, leave his Requiem (a setting of the Mass for the Dead in which the departed are remembered and commended to God's care), unfinished and the mysteries surrounding its composition and completion remain unsolved. Scholars are quite sure that the work was commissioned in July of 1791 by Count Walsegg-Stuppach as a memorial to his recently deceased wife. Walsegg delivered his commission via an emissary to remain anonymous — probably because he intended to pass off the composition as his own. (According to legend, Mozart came to consider this mysterious emissary, whose identity was also concealed, as the herald of his own death, but Mozart's cheerful letters from this period provide evidence to the contrary.)
The watermarks on Mozart's manuscript show that much of his work on the Requiem came after his return from Prague during September 1791, but it is clear that he was working on it when he was stricken with his final illness. Based on analyses of the 99 extant sheets of paper, the ink used and the handwriting in the score (along with stylistic considerations), scholars are quite certain that Mozart completed and scored the Introitus ("Requiem Aeternam") and Kyrie movements and probably sketched the voice parts and continuo (organ and bass) lines of the six-section Sequentia and the two-section Offertorium. (In the early 1960s, German musicologist Wolfgang Plath discovered, in the Berlin State Library, what seem to be sketches of sections of the Sequenz and Offertory in Mozart's hand.)
Following her husband's death, Mozart's widow Constanze sought to have the Requiem completed in order that she could receive the remaining portion of the commission money. A Mozart protégé, Joseph Eybler, therefore finished some of the orchestration but soon abandoned the project. Constanze then gave the score and — supposedly — some related scraps of paper to the 25-year-old Süssmayr, who constructed the Sanctus, Benedictus and Agnus Dei based on Mozart's verbal instructions and notes. He then added the concluding Communio ("Lux Aeterna" and "Cum Sanctis Tuis"), by adapting the music of the Introitus and Kyrie to the text with which the Requiem Mass concludes, and finished the orchestration. This completed version of the work attributed to Süssmayr, which has gained and maintained general favor, is what you will hear this evening. Despite some unevenness in its quality, the Requiem has held its position as a masterpiece for over two centuries, having been performed to honor the memory of such notables as Joseph Haydn, Napoleon I, Frédéric Chopin and John F. Kennedy.
The often-imitative Introitus leads immediately into the Kyrie, which features a Baroque-style double fugue (a contrapuntal work based on two different themes, one to which Mozart sets the "Kyrie eleison" text, the other accompanying the text of "Christe eleison") in contrast with the dramatic operatic opening outcries of the Dies Irae. A lone trombone, soon joined by the "wondrous trumpet sound" of the bass, opens the Tuba Mirum, its concluding solo quartet yielding to the majestic and solemn Rex Tremendae, which is marked by strongly dotted rhythms that lead to echoing pleas for salvation. The ensuing Recordare quartet displays the beautiful combination of the erudite German and sweetly melodic Italian musical elements that make Mozart's style so memorable. The Confutatis is characterized by agitated strings and canonic writing for the lower voices that confound the condemned, alternating with the gently undulating string figurations that accompany the angelic upper voices' pleas to be joined with the blessed.
After the tearfully hesitating Lacrimosa, of which only the opening eight measures were written by Mozart, comes the Offertorium, consisting of two sections: the largely contrapuntal Domine Jesu presents a jagged imitative passage that plunges the voices into the darkness of the abyss and then restores them to the holy light shone upon them by a brief solo quartet; the graceful, waltz-like, homophonic Hostias offers the solace of the light and life promised to the departed and to Abraham, as the affirming imitative counterpoint that closes the Domine Jesu returns at its conclusion. The exuberant contrapuntal Hosanna that follows the brief but grand Sanctus reappears after the blessing of the solo quartet's elegant Benedictus, after which the chordal Agnus Dei grants to the departed eternal rest. The Communio sheds everlasting light upon them in the Lux Aeterna and joins them with the eternal saints in the Cum Sanctis Tuis, bringing back the music of the Requiem's two opening movements to conclude a work about which Beethoven is said to have commented: "If Mozart did not write the music, then the man who wrote it was a Mozart."
— Lorelette Knowles